Ko Rock and Ko Haa islands tour from Phuket
Koh Rok Well known for its powdery white sands, crystal clear waters, abundance of colourful marine life and still only a small number of tourists visiting at any one time. Relax, unwind on Rok Island and snorkel directly on the beachfront or venture further out and to different points of the island on the boat, Koh Rok has something for everybody.
Koh Ha Normally only visited by scuba divers is now available for snorkeling and is by far and wide the best possible location to snorkel. Each and every part of the spectacular island is surreal paradise. The marine life here is largely untouched by snorkelers and like Koh Rok has crystal clear waters, white powdery sands and many species of marine life.
Tours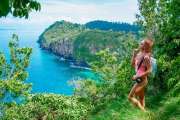 Ko Rock and Ko Ha
8 hours,
1 program,
Sold 8 times,
4 reviews
adlt
3400
฿
, chld 2400
฿
,
8 hours