From Phuket: Surin islands tours
The Surin Islands is an archipelago of five islands in the Andaman Sea, 60 km from the Thai mainland. Administratively, the islands are part of Tambon Ko Phra Thong, in Phang Nga province.
Mu Ko Surin National Park encompasses the islands and their surrounding waters. The park covers an area of approximately 141.25 km2. It contains the Surin Islands and the surrounding waters. Of the protected area, 108 km2 or 80 percent is ocean. The park was gazetted as the 29th national park of Thailand on 9 July 1981. The park is closed during rainy season, 1 May-31 October, every year.
Tours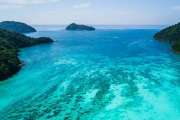 Surin islands
12 hours,
3 programs,
Sold 23 times,
4 reviews
adlt
3300
฿
, chld 2800
฿
,
12 hours